'We are in trouble if we don't act,' say experts, with up to 1m species at risk of annihilation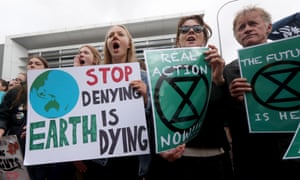 The world's leading scientists will warn the planet's life-support systems are approaching a danger zone for humanity when they release the results of the most comprehensive study of life on Earth ever undertaken.
Up to 1m species are at risk of annihilation, many within decades, according to a leaked draft of the global assessment report, which has been compiled over three years by the UN's leading research body on nature.
The 1,800-page study will show people living today, as well as wildlife and future generations, are at risk unless urgent action is taken to reverse the loss of plants, insects and other creatures on which humanity depends for food, pollination, clean water and a stable climate.
The final wording of the summary for policymakers is being finalised in Paris by a gathering of experts and government representatives before the launch on Monday, but the overall message is already clear, according to Robert Watson, the chair of the Intergovernmental Science-Policy Platform on Biodiversity and Ecosystem Services (IPBES).
"There is no question we are losing biodiversity at a truly unsustainable rate that will affect human wellbeing both for current and future generations," he said. "We are in trouble if we don't act, but there are a range of actions that can be taken to protect nature and meet human goals for health and development."
The authors hope the first global assessment of biodiversity in almost 15 years will push the nature crisis into the global spotlight in the same way climate breakdown has surged up the political agenda since the 1.5C report last year by the UN Intergovernmental Panel on Climate Change.
Like its predecessor, the report is a compilation of reams of academic studies, in this case on subjects ranging from ocean plankton and subterranean bacteria to honey bees and Amazonian botany. Following previous findings on the decimation of wildlife, the overview of the state of the world's nature is expected to provide evidence that the world is facing a sixth wave of extinction. Unlike the past five, this one is human-driven.
Mike Barrett, WWF's executive director of conservation and science, said: "All of our ecosystems are in trouble. This is the most comprehensive report on the state of the environment. It irrefutably confirms that nature is in steep decline."
Barrett said this posed an environmental emergency for humanity, which is threatened by a triple challenge of climate, nature and food production. "There is no time to despair," he said. "We should be hopeful that we have a window of opportunity to do something about it over these two years."
The report will sketch out possible future scenarios that will vary depending on the decisions taken by governments, businesses and individuals. The next year and a half is likely to be crucial because world leaders will agree rescue plans for nature and the climate at two big conferences at the end of 2020.
Advertisement