Ocean Hugger Foods is showcasing its plant-based sushi products in London at 2019 Hyper Japan Show, from today July 12, to July 14. Ahimi, the flagship tuna product, and Unami, the latest "eel" product, are said to be equal in taste and texture to real fish and offer a real "seafood experience" in a sustainably produced manner.
According to the Ocean Hugger Foods website, the motivation behind its launch took place at the "Tsukiji fish market in Tokyo, where James Corwell saw two football-field sized warehouses full of tuna sold in one morning. Chef Corwell — one of only 60 Certified Master Chefs in the U.S. — saw the incredible volume of tuna that are sold every single day."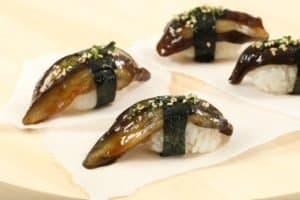 Realising that the planet is not able to keep up with such incredible volumes of over-fishing, Corwell started working on a product that could make a difference to the health of our oceans.
Ahimi, Ocean Hugger's first launch, is a plant-based sushi tuna product based primarily on tomatoes, which can be used to make dishes such as sushi, sashimi, ceviche, and poké. Unami is an alternative to freshwater eel, created from eggplant (aubergine) and suitable for sushi and rice bowls amongst other dishes.
The company received funding from Kale United this March as we reported here, and last month we reported that demand for Unami was already way surpassing production.
"Both products were inspired by Japan's traditional sushi culture and are a great alternative for chefs who want to provide their guests with dishes highlighting the natural texture and experience of sushi, without the negative environmental impacts of wild or farmed seafood," says James Corwell.
Ocean Hugger products are already available in North American and Canadian foodservice sectors, and will be available for UK foodservice this autumn / fall, with an anticipated eventual rollout into retail.